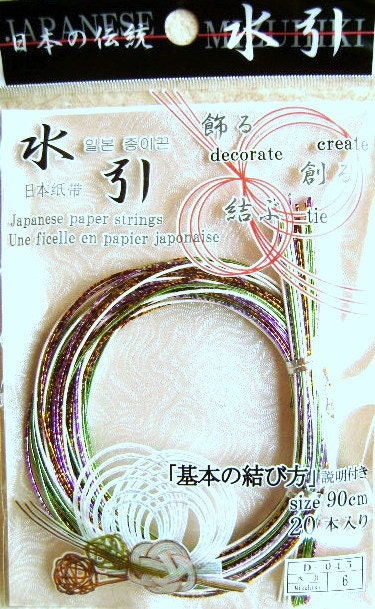 Mizuhiki Japanese Decorative Paper Cords Purple And Multi Color $5
Mizuhiki is made from strips of twisted Japanese washi paper. It is very important in Japan and is used to convey warmth and affection. Women use it to decorate their hair and it is used to decorate envelopes and New Year's decorations.
This pack of mizuhiki is multi colored with purple as the main color. There are 20 individual strands. They are each 90 cm or 35.4 inches long.Please remember that these can be cut to the size you want.This is perfect for scrapbooking, card making or any project you can think of!Please note that the 3rd picture is just an example of how the mizuhiki can be used-it is not included.
http://www.etsy.com/listing/26733555/mizuhiki-japanese-decorative-paper-cords
**********************************************************
Our Etsy Stores:Supplies-
FromJapanWithLove.etsy.com
Cute Food Jewelry-
SouZouCreations.etsy.com
Vintage-
VintageFromJapan.etsy.com
Wholesale Kawaii Cabochons-
DecoSweets.etsy.com
Jewelry And More
TrinketsAndBling.etsy.com
We will combine shipping if you buy from any of our stores.